When searching on Google did you ever come across a listing like this?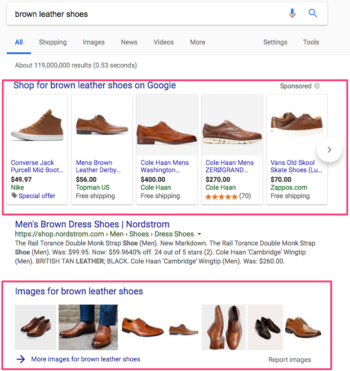 This type of enhanced search result is called Rich Text Snippet and enables the websites that are eligible for such listings to better present themselves on Google, thus increasing click-through-rate, to potentially increase sales.
How do I enable this for my products?
With this latest release of Lifeboat, we've automatically added all the necessities to your website, as to be eligible for such listings!
How does it work?
In short, when Google accesses a website, it looks for a particular type of code called Microdata. This Microdata is a standard of structured code that many websites understand and includes information such as; URL, Image, Price, Description...
Some of the sites that understand this Microdata; Google, Facebook, Twitter, Instagram, LinkedIn and many more.
Once one of these websites find this microdata on your website, they in-turn change how they present your products on their platform. These changes are based on many factors but most of all them look for; Image, Price & Description.
In this latest release, we've added much more information about your products using this microdata format to increase the chances of your products being listed in this enriched format.
Is there a way I could test this is working on my site?
Yes! Follow the steps below:
Open your online shop; example: mystore.mylifeboat.app
Find the product you'd like to test
Copy the URL of that product
Paste the URL of your product
Click "Test URL"
This should give you a result similar to the one below:

What do you think of this new feature? Will you be testing it?
Let us know in the comments below.