What is EU Consumer Law? What should merchants/traders do about it?
Note: In this article we'll focus on the online sales aspect of the law, to have further information about in-person sales or the law in general please refer to the EU Consumer Law website: www.consumerlawready.eu
TLD;R
EU Consumer Law is a law that protects EU citizens from being misled by merchants and ensures their right to return or get refunds for goods that do not meet common expectations.
On Thursday 15th April 2021, the Malta Chamber of SMEs conducted a very informative webinar about the topic, to educate local merchants about their obligations in this law. Members of the Lifeboat team were present at this webinar and came back with tones of knowledge and ideas to share with you the online merchant.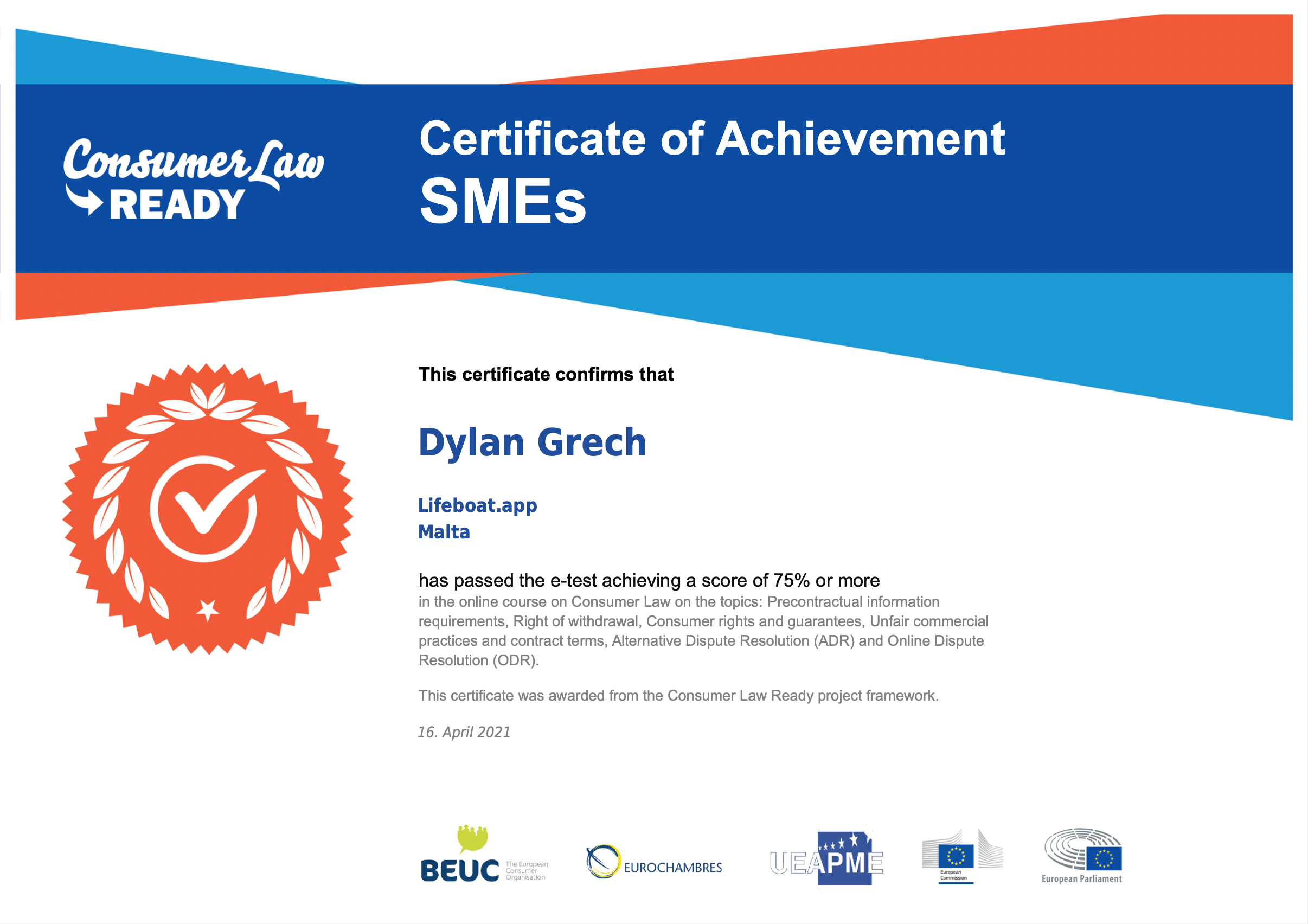 What are the basic principles?
The right of withdrawal
Meaning that a consumer can withdraw from a purchase if the goods received are not the same as one would typically expect.


The right to make an informed decision
Meaning that the average consumer should be able to make an informed decision, and not expect surprises when goods are received.


Exceptions
Occasions where certain rights can be limited or withdrawn due to the nature of the goods.
The right of withdrawal
This is probably the topic that causes the most confusion between consumers, and merchants alike.
In its simplest form EU Consumer Law states that products bought from the EU can be returned in exchange for a refund within 14 days from the date they are received, but there are many exceptions and adjustments that take place, so let's take some common examples;
If the goods received are clearly personalized
In such cases, the merchant has all the rights to refuse returns because the goods cannot be resold.
If the goods have an expiration date
If the goods can expire, then the merchant has the right to deduct deprecation costs from the refund.
If the goods cannot be resold
This is a tricky one, so we'll have to split it up into 2 categories;
- If the goods cannot be resold due to hygiene or health and safety, but where received in good condition, then the merchant can refuse to refund/exchange the goods.
- If the product cannot be resold for whatever reason, but was received in poor condition (underwear with a hole in it), then the merchant still has to issue a refund/exchange of goods.
Another common issue is that merchants don't provide all the necessary information for the consumer to make an informed decision, what happens in this case?
The right of withdrawal gets extended up to one year.
The right to make an informed decision
Ok, we have your attention, we said these rights can be extended to one year. So how can we make sure that this doesn't happen?
We need to make sure, the consumer has the right to make an informed decision.
Clearly show the price of goods, freight, and delivery
If you're using Lifeboat, you're already covered here because we calculate, and show all these automatically in a very clear and legibale format, prior to the consumer making a purchase.
Clearly present refunds and returns policies
This is where our dev team is getting creative, in the near future we plan to have templates that can be easily filled in and be automatically presented on all pages, to simplify conformity, but what is an interim solution? You can create these following the EU Consumer Law guidelines and show them on your site using the Lifeboat Pages feature.
We recommend having these visible on all of your pages, by adding links to your footer.
Follow the guides provided with each template to update your footer.
Show your terms & policy on every page
Similar to the refunds and returns policies, you can write these using the Pages feature, and we recommend adding these to the footer of your site.
Language and Terminology
Even though there is no set law as to what language is to be used, the policies have to be legible. This means that in Malta it's recommended to use English as your language of choice, but if your target audience is Spain consumers, we suggest having the policies available in Spanish as well. We also recommend using tools such as Grammarly to verify the text is legible by the average consumer.
The ability to contact the merchant
The EU Consumer Law also states that a consumer should be able to easily contact you, the merchant in case of difficulty or to claim their rights. The use of a contact form is not enough. Since contact forms are not enough to fulfill this obligation, we recommend filling in the Contact Email in your Lifeboat store, this will make sure you have a public-facing email address on your Lifeboat online store, and thus conforming to your obligations.
You can set up a contact email through the Store Settings.
Exceptions
Up till now, we've skimmed through the basics of consumer law, however, this article wouldn't be complete if we didn't mention the exceptions.
If the product serves a dual purpose
In the case that the product was purchased primarily to be used by a business, but is also used for personal reasons (for example a notebook), the merchant can waiver the right of withdrawing because the EU Consumer Law does not apply for business purchases.
If the product does not meet expectations
If a product received does not meet general expectations, for example, a belt without a buckle. The merchant is legally bound to fully refund the item, or exchange it if the consumer agrees to it.
Conclusion
The EU Consumer Law is there to safeguard consumers, and EU citizens are lucky to have such laws. As a merchant, it might seem like a lot of red tape and additional costs, however, let's take everything into a bit of a different perspective. If you the merchant are abiding by these laws, you are by default offering a quality service that every consumer will appreciate. So to summarise, don't be alarmed by such laws but be proud to be compliant, be proud that you value your consumers.
This article wouldn't be possible without the training offered by Abigail Mamo, CEO of The Chamber of SMEs Malta, so if you're in Malta, run a small business, and are not a member yet, do consider joining. This kind of training is invaluable for businesses.