Loyalty
The single most powerful way to attract repeat customers is through a loyalty program. Customers are rewarded for performing certain tasks on your site and then encouraged to come back, to receive discounts and special prices.
The dashboard
To configure and monitor active points visit Discounts > Loyalty. From here you can manage everything related to the loyalty system.
Getting Started
The first step is to enable the loyalty system;
Click on Enable Loyalty System
Click Save
You may choose to brand your points by specifying a name in Name, under Enable Loyalty System.
Assigning Points
A set of default values have been provided for you to quickly get started, however, you change the number of points each customer should get for performing a certain action;
For Registering - A one time reward when a customer creates an account on your store
For Subscribing - A one time reward when a customer subscribes to your mailing list
Per Review - Rewarded every time a user leaves a review (user needs to be logged in)
Per Order - Rewarded every time a customer makes an order (user needs to be logged in)
Per Purchase - Rewarded for every unit of currency spent on your store (user needs to be logged in) - Example: for every €1 spent
On Birthday - Rewarded on the customer's birthday (user has to specify birthday in their account)
On Account Anniversary - Rewarded every year on the date the account was created
If you would like to NOT give points for certain actions, simply specify the points amount to 0.
Loyalty Points
Every time points are rewarded or deducted from a customer, it's logged in the loyalty system dashboard under Points Log.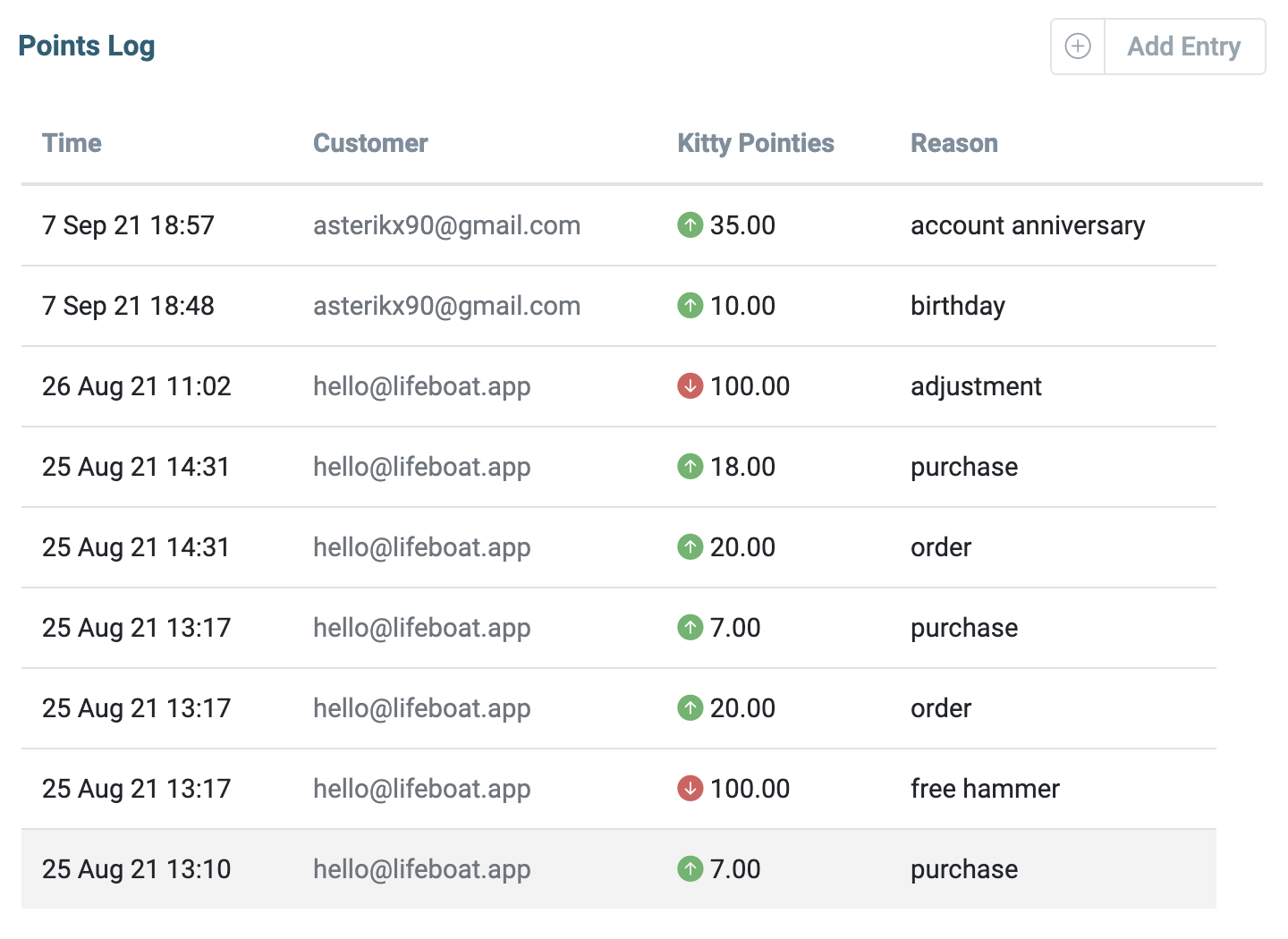 Point Adjustments
Sometimes there might be the need to manually adjust a customer's points count. To do so;
Click on Add Entry
Select the Customer
Enter the Points amount to adjust
Click Add
Loyalty based Discounts
Once a customer has accumulated enough points they might want to redeem such points towards rewards in your store.
Go to the Discounts dashboard
Click on Add Discount
Configure your discount name & value (see the manual here)
Under Minimum Requirement select Loyalty
Specify the number of points this discount costs
Click Save
Now, the next time customers make an order in your store, they will be given out this discount if they have enough points.
Note
If the option Loyalty Points is not available under Minimum Requirements, it's because the loyalty system is not enabled.
The checkout
If you have the loyalty system enabled, the checkout includes the number of points that will be awarded on completing that order.