Product Reviews
Product Reviews interface can be accessed from Products > Reviews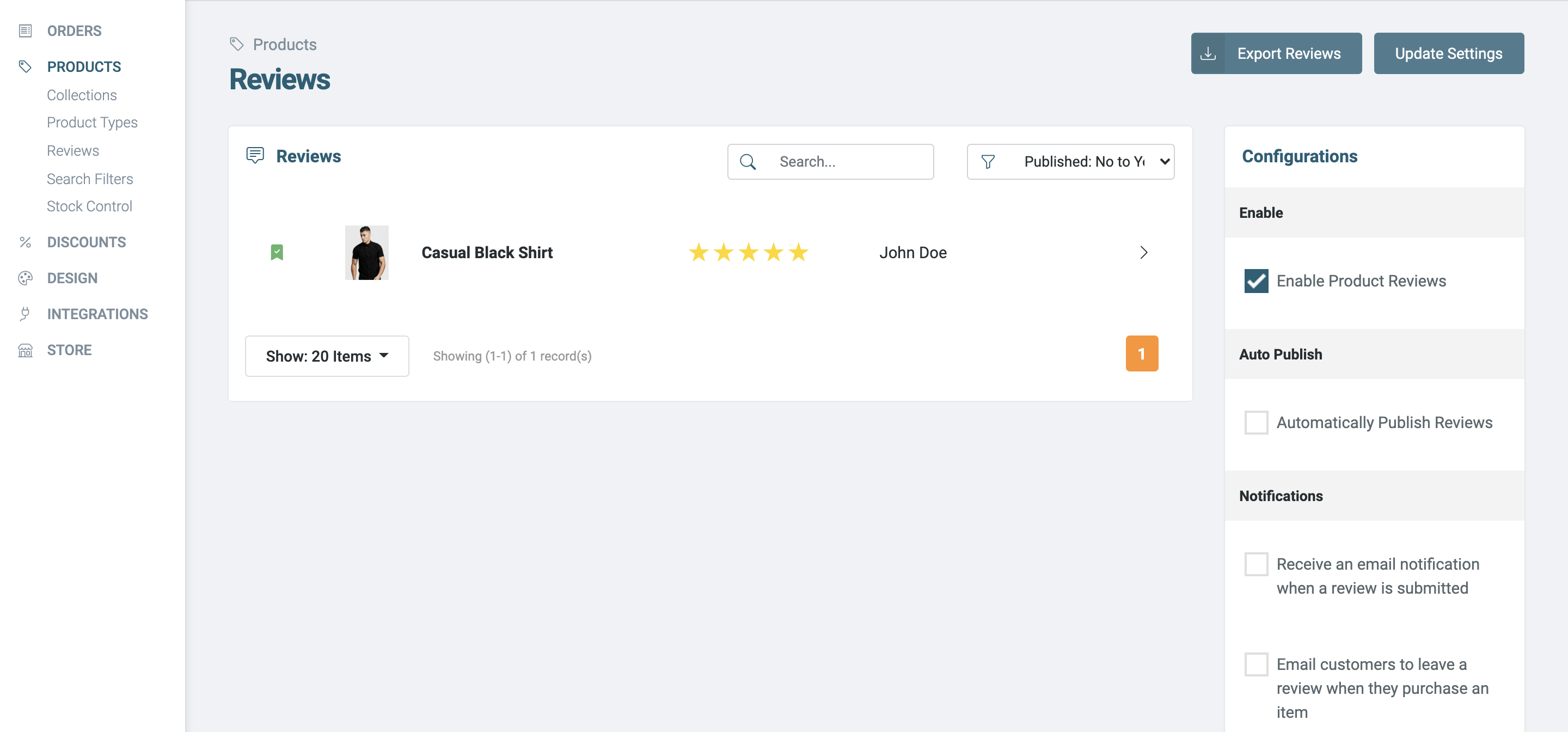 One of the best ways to increase sales is through social proof. Social proof is when a previous client publicly describes their experience with your online store and products. In Lifeboat, we've taken this opportunity of social proof and created the "Product Reviews". Similar to big marketplaces your store can accept product reviews, which you can review, and publish.
We have also added some automation to the process to help you get more reviews.
Product Review Settings
Open Products > Reviews
Enable Product Reviews - To start accepting reviews
Automatically Publish Reviews - To automatically accept and publish reviews
You will still receive a notification with the review (if notifications are enabled)
Receive Email Notification... - Lifeboat will notify you whenever a new review is submitted
Email Customers... - Lifeboat will automatically send an email to your customers 24-48 hours after their order is delivered encouraging them to leave a review
Reviews by logged in users that have purchased that item will be marked with "Verified Buyer"
Managing Product Reviews
Open Products > Reviews
Click on the review you want to update

Publish/Un-publish a review by clicking the relevant button (top right-hand corner)
Click on the bin icon to delete a review
Product Reviews in the Product Editing Page
Once you have product reviews enabled you will see a new section in your product editing page showing the current reviews this product has. Note that, this will only show "published" reviews, any reviews pending verification will not be shown.
Reviews by Verified Buyers
For someone to get the "Verified Buyer" badge when posting a review, a few things need to happen;
The user must be logged in when making the purchase
The user must be logged in when reviewing the product
The user must use the same account when performing the purchase and the review
Encouraging users to leave reviews
Product reviews are a great way to increase sales, this is why we recommend turning on the Email customers to leave a review when they purchase an item option in Products > Reviews.
When enabling this option Lifeboat will automatically send an email to your users when they receive their goods;
The user has made a purchase
The order has been marked "Delivered"
The email will be sent 24-48 hours after the order has been marked as "Delivered"
Dealing with spam
As your store grows you might see an influx of spam reviews on your site. To defend you against this we use Google ReCaptcha, however, some spam might still flow through. If you're finding yourself receiving too much spam we suggest disabling Automatically Publish Reviews. And only publish genuine reviews.