Product Variants
Do your products come in different sizes, colours, shapes, etc..? Product Variants allow you to have multiple options of the same product without having to enter all the information over and over. This makes it easier to manage your products, and also makes it easier for your customers to find the variant they are looking for.
Enabling Variants
To use variants, you need to enable them by;
Login in the admin interface (admin.lifeboat.app)
Navigate to the Products section from the main navigation
Click on the product you want to add variants to
Scroll down and find the section called Variants
Check the box labelled "This product has multiple options, like size and colours"

Creating Variant Options
Before we can create variants, the types of options this product comes in have to be specified. To do this;
From the product editing page, scroll down to the Variants section
Click on Add Variant Option


Enter the Option Name
example: Size, Colour, Fit, etc.
If the product comes in more than one set of variants, for example, Size & Colour, then click on Add Variant Option again to specify the second and third variant options.
Note
A maximum of 3 variant options can be specified
Adding Variants
Once the variant options have been created, the specific variants can be created. To do so;


Click on Add Variant


Enter the specifications of this variant;

The variant specification (as per the variant options specified)
Example: Small / Red
SKU (Optional)
Price
Discounted (Optional)

Keep adding variants for the combinations this product comes in.
Click Save
Variant Demos
Once you've created all the variants, you should have something similar to this;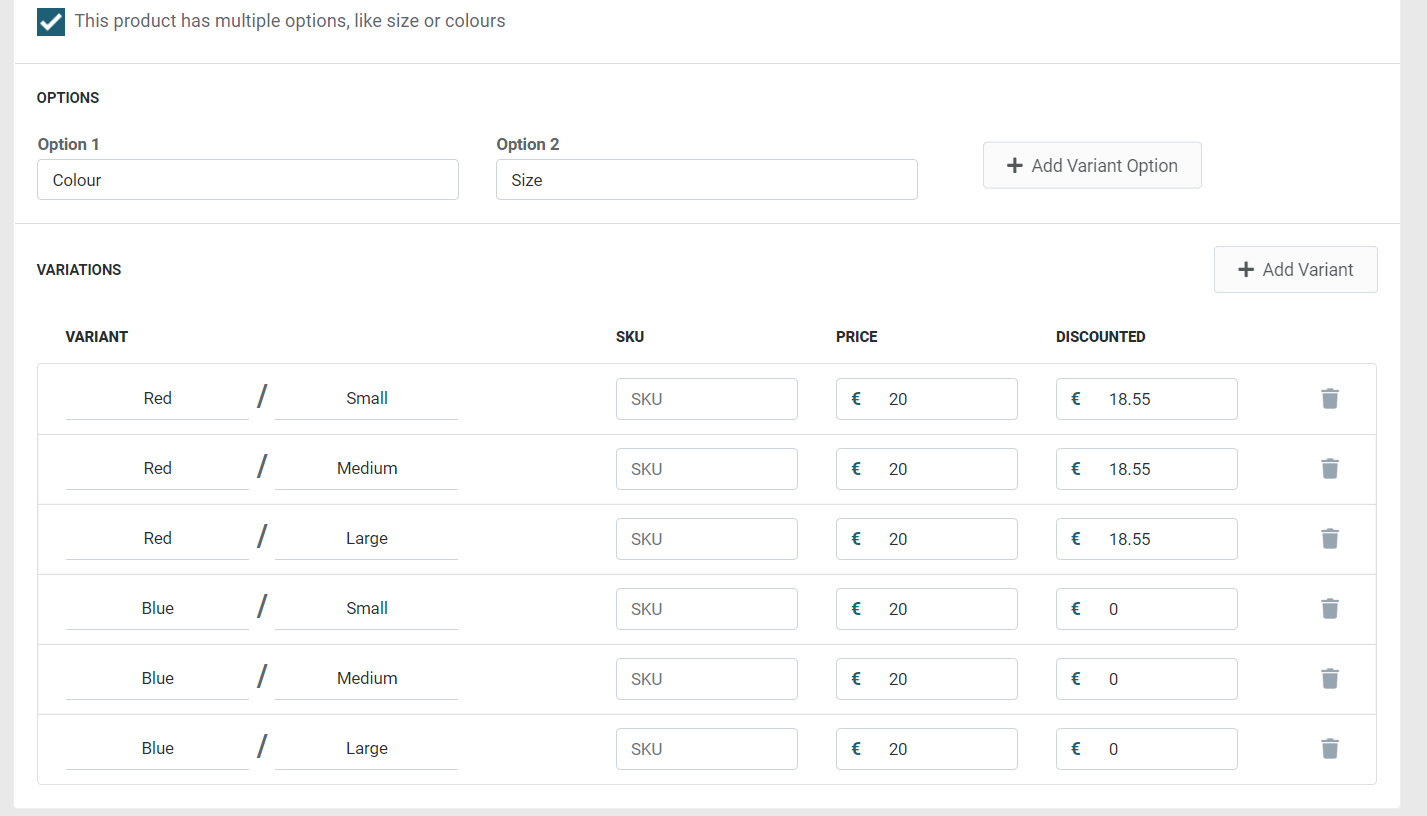 Removing a Variant
To remove a variant, simply click Trash Can

icon next to the variant you'd like to remove.
Disabling Variants
To disable the use of variants on a product;
Remove all existing variants
Clear the Variant Options fields
Click Save