Product Search Filters & Search Data
Search Filters is a feature in Lifeboat where you can create advanced search functionality in your online store, enabling your customers to find the exact product they are looking for.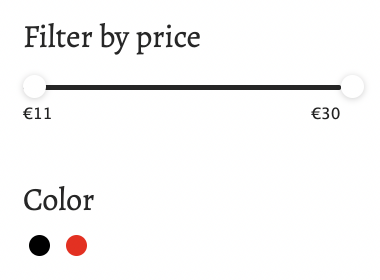 To access Search Filters visit Products > Search Filters in the Lifeboat Admin Interface.
Types of Search Filters
There are two main types of Search Filters, "Text" and "Color". The "Color" search filter is sometimes used as a colour swatch in the themes, whilst the "text" based filters can be used as either exact match or partial match.
Options
The Search Filters breaks down into 3 main aspects;
Search Filter Name - The name of this filter (example: Size, Fit, Shape, Material, Colour...)
Label - An internal name of the search data (example: Blue, Red, Wood, Metal...)
Value - The value your customers use to search with (example: Solid Wood, Shiny Metal, Matte...)
Creating a Search Filter
Click on Add Search Filter
Enter the name of your Search Filter
Click on Add Option to add all the options relevant to this search filter
Enter a Label and Value for each Search Filter
Click Save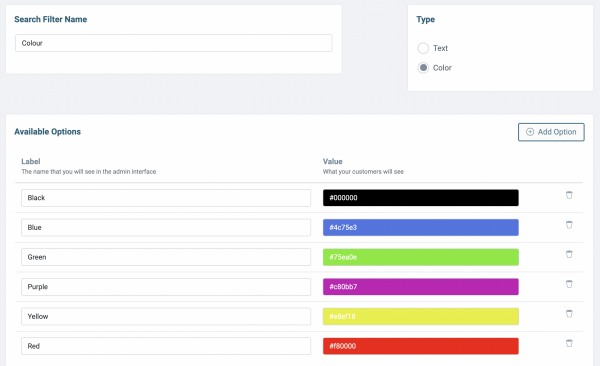 Setting up Search Data
Go to Products
Open the Product you'd like to add Search Filters to
Scroll down to the section labelled Search Data
Select the Search Data that applies to this product
Click Save

Updating Search Filters
Click on the Search Filter you need to update
Update the Search Filter
Click Save
Note:
If you update a Search Filter it might affect products that are using this particular Search Filter.
Deleting a Search Filter
Click on the bin icon next to the Search Filter you want to delete
Confirm you decision